Journey on the Whiskey Trail
A preview of artisan distilleries in Sevierville, Tennessee
By
Rebekah Olsen
I grew up in Tennessee, experiencing firsthand the birthplace of rock & roll and the heart of country music.
But when the Tennessee Whiskey Trail launched, I decided to get in touch with the spirits too. With 30 distilleries, the trail serves as a reminder of the history of distillation in Tennessee.
While "Whiskey Trail" might seem like it's fit for only whiskey connoisseurs, Sevierville is home to two official trail stops that bring history, hospitality and flavor to people from all walks (or tastes buds) of life. There's also a new distillery in the area that's worth adding to the itinerary.
You can start your journey at any point, but I chose a route that carried me from the past to the present.

Heading east on Interstate 40, I spot West Town Mall. While now an upscale shopping center, it was (allegedly) the site where onlookers witnessed Tweedle-o-twill, a notorious moonshiner, speed around Dead Man's Curve and careen into a dirt bank.
Ring a bell? You're probably thinking of Robert Mitchum's cult classic, Thunder Road. But whether or not the crash inspired the film, it did inspire the 5th generation moonshiner, Dwight Bearden, to bring his "old time" craft to Thunder Road Distillery.
"My first job was at a still when I was about six years-old," says Bearden reflecting on his days as a young desperado, who now boasts a bushy white beard and brown felt fedora, "I washed Coca-Cola jugs and got them to Daddy's still."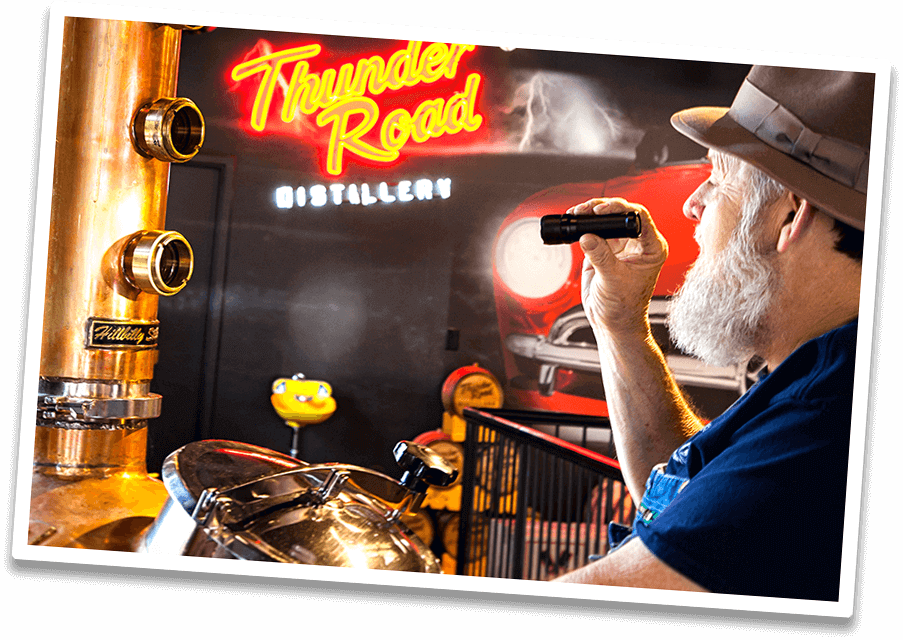 Sipping on a free tasting of Mitchum's Thunder Road Classic Corn Whiskey, I see a neon sign, a red 1950s hot rod wall decal, and the moonshine still. The juxtaposition plays ode to the spirit of legendary haulers with modern makers.
Bearden, arms folded across his denim overalls, has the wide-eyed attention of everyone at the bar.
"The process is basically like I was making it back in the early days," he explains, "We make ours with love. We always use white corn, and it's grown here in Tennessee."
While Thunder Road's products are a "reflection of the whiskey runner's spirit," there's a variety of liquor for every taste bud, from crowd-favorite Little River Lemon Moonshine to medal winner, Runner's Rye.
Thunder Road Distillery - Autumn Coffee:
2 ounces Autumn Maple Moonshine
3/4 ounce Irish cream
Hot coffee
Whipped cream, bacon bits and maple syrup (optional)

Directions: Stir Autumn Maple Moonshine and Irish cream into your choice of black coffee. Top with whipped cream and bacon bits. Add a drizzle of maple syrup.

Reveling in the history of Thunder Road, I continue south to find more lore (and moonshine, of course).
Named after the legendary figures of the Smoky Mountains, Tennessee Legend Distillery takes pride in their subtle and extraordinarily smooth flavors.
"It may take us a little bit longer to make, but we have an extensive filtration process," says Assistant Distiller, Chance Dickerson, "It's filtered when it's made and when it's bottled."
Dickerson hands me a sampling of their Coffee Moonshine with Dirty Cream Liqueur.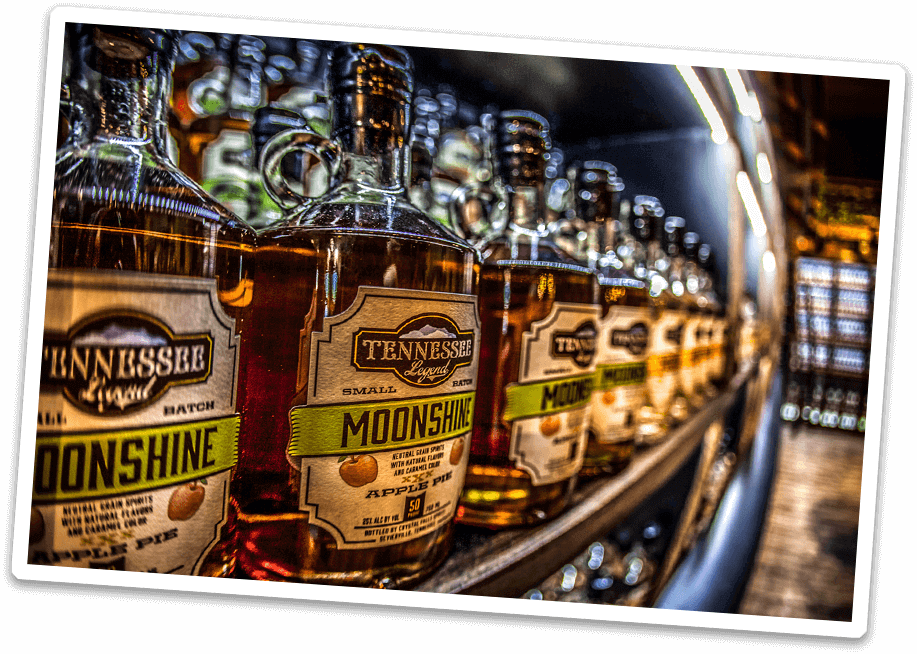 "We like to give people ideas of what they can do with our product. All of our flavored products are 50 proof, so you still get a decent strength with great flavor." The drink, which has subtle notes of caramel, puts a little pep in my step.
Tennessee Legend has an impressive line-up of cream liqueur, making it a great place that even "grandmother will like." While I've got one more stop on my journey, the comfortable atmosphere of the distillery draws me in, so I pull up a stool and settle in for a good chat.
Dickerson slides a sample of his favorite drink, Canebrake Bourbon, across the bar.
"This is named after the canebrake rattlesnake that's native to the area," he explains. "It's only aged about 6 ½ months, so it has an aggressive bite to it at first and then a smooth finish."
On the way out, I grab a bottle of the Salted Caramel Whiskey, which Dickerson says is a versatile product you can cook into pork loins and baked beans.
Tennessee Legend Distillery - Legendary Hot Toddy:
2 ounces Tennessee Legend Cinnamon Whiskey
1 tablespoon of honey
Juice from 1/4 lemon slice
1 cup of hot water
1 tea bag and a lemon slice

Directions: Combine ingredients, and enjoy.

Located half a mile away, I visit Sevier Distilling Company, whose motto is "Every drop. Fermented, distilled, and bottled by master craftsmen."
Owner and master distiller, Chris Yett, gives me a tour.
Instead of reclaimed wood and barrels, the distillery will have an industrial, premium vibe, "I want to show all the tourists what real, Sevier County moonshine tastes like," says Yett, "Right now, we've got all the equipment to make any kind of liquor. Being the owner and master distiller gives us total control to do whatever we can dream up."
One of the first (one-of-a-kind) liquors Yett has crafted is Yenoh, an 82 proof honey spirit. He mixes it with Fresca for a cool, refreshing drink. While at first, I can taste the sweetness of honey, the subtle hints of wildflower come through at the end.
"We're doing full distillery tours so everyone can get a chance to see all of our equipment," explains Yett, "We want to educate the public as to what the real alcohol process is, and what a true distillery looks like."
I focus all my senses on Sevier Distilling's innovative and delightful spirits such as their Yetti Artisan Vodka, a neutral vodka crafted in batch distillation.
In the end, I was proud to add stamps to my Whiskey Trail passport, and look forward to filling it up.
Sevier Distilling Co - Yenoddy Toddy:
1 ounce of Yenoh Original
1 tablespoon pure honey
2 teaspoons fresh lemon juice
1/4 cup hot brewed tea
1 lemon slice
1/4 teaspoon of apple cider vinegar (optional)
Directions: Put honey, lemon juice and apple cider vinegar in a mug. Add hot tea and stir until honey has dissolved. Add Yenoh Original, stir and finish with a lemon slice.